October's Featured Author ~ Betty Jean Craige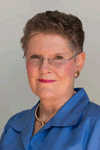 Dr. Betty Jean Craige is a University Professor Emerita of Comparative Literature at the University of Georgia. She has lived in Athens, Georgia, since 1973.
Craige is a teacher, scholar, translator, humorist, and writer. After retiring in 2011, she published a column about animal behavior in the local paper titled "Cosmo Talks" and began writing fiction. Her Witherston Murder Mystery series, set in north Georgia, includes Downstream, Fairfield's Auction, and Dam Witherston. Aldo, released by Black Opal Books in March of 2018, is a thriller.