July's Featured Author ~ Bobbye Terry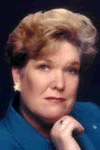 Bobbye Terry is an award-winning author in both fiction and nonfiction and has also won awards for her poetry. She penned numerous novels and short-stories in collections with co-writer Linda Campbell under the pseudonym, Terry Campbell, and since then has written a couple of dozen books solo as Bobbye Terry and Daryn Cross. She also has new releases in inspirational nonfiction, including The Light Within and Joy Glows.
Terry claims to be a recovering klutz who has ongoing love affairs with smooth red wine and rich Columbian coffee. She manages to incorporate humor even in the most gruesome murder mystery and believes everyone deserves her own happy ending.