Jami Gray ~ November 2011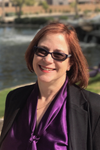 From A Little Seed
One of the most common questions I face when I finally own up and admit to strangers that I write, isn't the one you expect (No, really what do you really do for a job?).  It's actually, "How do you come up with something to write about?"
Oh boy! I mentally rub my hands together while I cackle with glee.  Do you have any idea how many different answers I can come up with? Where to start?
Let's begin with my favorite:
I'm driving down the road, music blasting (no, not because I'm deaf, but loud is the best way to listen to it) and suddenly the chorus from a song hits me.
What if everything around you
Isn't quite as it seems?
What if all the world you think you know
Is an elaborate dream?
And if you look at your reflection
Is it all you want it to be?
What if you could look right through the cracks?
Would you find yourself
Find yourself afraid to see?
While the greatness of an idea blinds me momentarily, it does recede enough so I can slam on the brakes before compacting into the station wagon in front of me who so politely stopped for a red light.  The pale face of fear reflecting in the rearview mirror of the station wagon is a distant memory as my mind starts to spin with possibilities.
Caught up in my newest creation, only the fact I've traveled this route so many times before allows me to make it safely to my garage.  Rushing into the house, tripping over the furball trying to greet me, I rush to put my delicate new ideas on to paper where as each stroke of the keyboard or pen diminishes the fear that the idea will leave before I'm ready to let it go.
Music is a great idea sparker for me.  Sometimes it's a lyric or the reasons behind those lyrics that will fan that creative flame to life for me. Songs are like snapshots for me.  It leads me down the twisted paths of Why? What happened? Who would do this?  Such questions are the basis for building your characters and your world.
Ideas can come from anywhere: books, discussions, movies, TV, daily news, your children… you name it, it can spark it.  It all depends on what triggers it for you.
Most of my stories are character driven which means when a new idea hits, it's not the story that gets me, it's the person. Creating a person is key for me, and once I have them down, then I can create their world and where they're at.
So next time you're sitting at a Starbucks sipping a latte, eavesdrop a little on the conversations around you, watch the people hurrying in and out of the door, pick up a paper and read an article, or tune everyone out and tune your iTunes in.  Questions will come, follow them, you'll be surprised at what you find at the end of the road!
© 2011 by Jami Gray